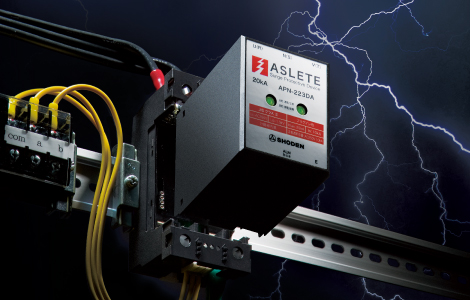 Table of
business units
"Providing safety and security to the information-oriented society" is exactly SHODEN's technology
Business continuity (BC) through daily work with information communication network is the most important factor to economical activity of every enterprise in the field of not only electrical power, telecommunication, financial business concerning infrastructure, but also distribution industry, service industry etc. In order to protect our customer's corporate information communication networks from disaster and troubles, SHODEN Co., Ltd. has expanded its business in the field of protection measures against lightning- and earthquake damages, networks, security and facilities.
Under the slogan "providing the safety and reliability to the information-oriented society" SHODEN Co., Ltd. offers a one-stop location for the both of excellent products and services.
From lightning, the most serious threat to information communication networks, and electric surges caused by lightning strike and intruding through power / communication line into the system, the valuable equipments and data must be protected.

Valuable machinery such as data-server etc. are protected from damages caused by earthquake.
By construction of server-environment prepared for the worst, customer can continue his daily work in the worst case scenario.

Support to protect the information network keeping the smooth corporate activity from trouble and to maintain the stable network operation. Construction, operation and maintenance of corporate information communication network are provided.

We provide security systems to monitor networks and control the entry and exit of personnel in order to protect classified areas containing customer data, confidential data and all other important information from illegal access and the outbreak of fire.

We are ready to meet a wide range of requirements, such as eliminating the risk of trouble arising with power supplies and installing special air-conditioning units in machine rooms, in order to guarantee all of the peripheral equipment indispensible to operating information communication networks at their optimum status.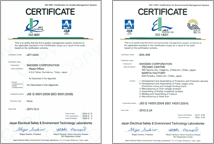 SHODEN Co., Ltd. obtained ISO 9001 and ISO 14001 - certifi cation
SHODEN has established the production system which can provide the products and services with high quality to the customers and therefore obtained ISO 9001 for facility construction. Our technology center and NARITA-factory obtained also ISO 14001 certification as a fulfillment of social responsibility.
Construction · Installation
Not only architectural construction,
but also everything of its inside facility is provided by SHODEN's technologies.
We, SHODEN provide various installations based on the high-level design capabilities as a fi rst class registered architect offi ce and fully using the technical power built up for long years in the installation works of lightning- and earthquake- protection, network, security and facility. We, SHODEN is ready to meet the customer's requests widely for base station of cellular phone, communication shelter, cash-service-corner etc., which require a comprehensive technology including electric-, communication-, air-conditioningand disaster-preventing technology.
Moreover we, SHODEN can comply with the other various customer's requests for LANconstruction in offi ce, installation of power receiving and voltage transforming equipment etc. Owing to the increasing of local sales center all over Japan one-stop service is available.
Holding qualifi cations
Product design and production
| | |
| --- | --- |
| Manufacturer of electrical wiring apparatus: | Japan Electrical Safety & Environment Technology Laboratories, East No. 6174 |
| All of Japanese Electric Power Company: | Communication safety devices for power transmission(for communication cables) Qualified manufacturer according to the standards for electric power |
| Japan Electric Association: | Qualified manufacturer according to the communication safety regulations for power transmission , JEAC 6011-1977 |
| Japan Railroad Association: | Qualified manufacturer of safety devices (for railroad signal) according to the standards of safety communication for power transmission |
INSTALLATION-design and -work
Class1 architect's office:
Registration of Governor of TOKYO: No.12375
Construction license:

license of the Minister of Land-, Infrastructure and Transport (Special) No.921

-

Building industry

-

Electric construction work

License of Minister of Land-, Infrastructure and Transport (General) No. 921

-

Constructor of electric communication installation

-

Piping for electric isolation and protection of wiring and laying of air-conditioner

duct

-

Interior finishing

-

Installation of fire-detection and extinguishing facility
Main items of construction and installation
Construction of cellular phone base station and shelter for communication installations.
Construction of a cash-service-corner
Network construction
Construction of air-conditioning installation
Installation of free-access-floor
Grounding installation
Installation of power supply equipment
Installation of power receiving and voltage transforming equipment
Installation of security system